| | |
| --- | --- |
| | |
| | |
| | |
| | |
| | |
| | |
| | |
| THETA AG | |
| Tel. +41 44 217 80 14 | |
| | |
| | |
| | |
| | |
| | |
| | |
| | |


Series
Single Asset View: Australia ASX 200
Index Family: [dynAAx Europe]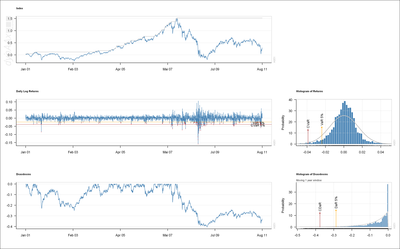 How to read this graph
The series graphs of financial prices and returns give a first overview of the dynamic process which generated the series. The Graphs present three time series plots together with two distributional plots.

The first series plot presents the price/index level over time with recovery lines from the all time hights.

The second series plot shows the financial returns computed as log returns. The two horizontal lines mark the 95% Value at risk (VaR) and Expected Shortfall risk measured over the whole period. To the right of the plot the histogram of the returns is shown, overlaid by a gaussian distribution fit with the same mean and variance.

The third series plots shows the drawdowns calculated from the returns as given in the previous graph. To the right a histogram of the drawdowns is shown together with the 95% Drawdown at Risk (DaR) and its expected shortfall risk.

CVaR and CDaR are two distinct measures for the comparison of the risk in financial return and drawdown series.