| | |
| --- | --- |
| | |
| | |
| | |
| | |
| | |
| | |
| | |
| THETA AG | |
| Tel. +41 44 217 80 14 | |
| | |
| | |
| | |
| | |
| | |
| | |
| | |


Volatility
Single Asset View: Switzerland SPI
Index Family: [dynAAx World]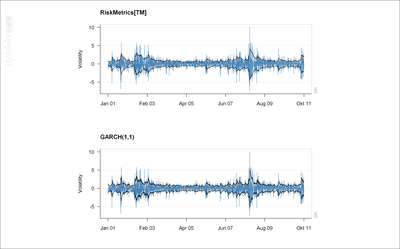 How to read this graph
In a broad sense historical volatility refers to the degree of change over time of financial returns or other values. It may be measured via the standard deviation of a sample, but many other metrics may be used to describe volatility. Two often used alternatives to the empirical variance are given by modelling the time series of returns by the Riskmetrics or Garch(1,1) time series approaches.

The RiskMetrics model is an exponential smoother for the time varying volatility.

The Garch, generalized autoregressive conditional heteroscedasticity models consider the volatiliy expressed as the variance to be a function of the variances of the previous time periods. This allows to take into account the stylized fact of time varying volatility clustering of financial returns. This reflects periods of swings followed by periods of relative calm.